Michelle Gunnell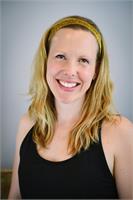 Michelle grew up in a Dance Studio. She determined at an early age that she loved to teach movement to people. So when someone invited her to teach Yoga, it was a natural progression and an easy answer.
Her two youngest children arrived within the last two years and she is excited to be teaching Yoga at the studio.
She is a 200 Hr RYT (registered yoga teacher), trained in SmartFLOW Yoga. She is also a recent graduate of the Next Generation Yoga (NGY) Kids Training and is bringing that wonderful teaching to kids in the community. She currently teaches Level 1 classes, Gentle Yoga, Kids Yoga and Prenatal Yoga at Yoga Krewe.
Michelle Gunnell instructs the following:
Join Michelle for Storytime Yoga! Michelle will read a fun, age-appropriate story and include lots of creative movement and Yoga to bring the story to life!




As promised - Yoga for the whole Krewe! Our kid's class is especially timed so that they can take it when you're in class as well!

In this Next Generation Yoga for Kids class, Kid's learn mindfulness, balance, focus and body awareness in this 60 minute class. There are enormous benefits to these young yogis developing their own practice.